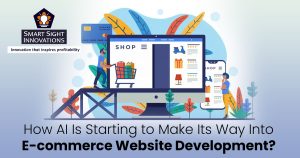 Among several inventions and developments in technology, artificial intelligence (AI) is the most popular. It can revolutionize how work is done across industries and bring in new sources of growth.
AI is a combination of machine learning and deep learning. It aims to teach machines operated by a computer or software to think critically and creatively — just as a human mind would. It's achieved through examining the cognitive process and researching the patterns of the human brain. These research projects produce systems and software that are intelligent.
How Is AI Bringing Change to E-commerce and What Are Its Benefits?
Implementing AI has an impact on a wide range of organizational business operations. It can be applied in a variety of fields, including medical research, developing technologies for automated cars, in banks to monitor finance and its regulation, military, agriculture, e-commerce, entertainment, customer service, etc.
By 2035, AI is expected to contribute $15.7 trillion to the world economy. It's enhancing the online shopping experience for both customers and businesses by providing a highly personalized purchasing experience with the aid of virtual buying assistants. AI programs can recognize and analyze customer data to estimate future spending trends and provide product suggestions based on a consumer's browsing habits.
When choosing an AI app development, AI and machine learning are both essential. They help fulfill the needs of contemporary consumers, maintain competitiveness and boost profits.
AI can help online retailers enhance customer experience on their websites by utilizing customer data to improve business decisions and accurately foresee the future. Some benefits of AI in e-commerce are:
1. Deliver Outstanding and Visually Appealing Material
AI tools are useful when you need to develop content for your social media pages, blogs and email campaigns. The algorithms are built for understanding titles, headings and words to produce inspiring articles, newsletters or blogs.
AI software can even produce beautiful photographs and edit videos for marketing objectives, as a result, you spend less time and money producing content and can concentrate on other core competencies.
2. Unique Shopping Experience
Customer Relationship Management (CRM) AI solutions are used to track and monitor customer preferences in real-time and to customize the buying experience. These AI tools suggest similar products based on the customer's past purchases and customers in turn benefit from this as they realize that they won't have to look far for the goods they desire. Thus including this on your website encourages customers to buy from you, leading to more transactions and increased profits.
3. Best Pricing Strategy
Many AI models include modern technology and machine learning techniques to track and compare the costs of your competitors, thus providing you with the best pricing possibilities. Depending on inventory availability, demand and supply trends, and other factors, AI can also help build future pricing projections and avoid overpricing or underpricing products.
4. Control Fraud and Risk
Machine learning technology uses several steps to authenticate and prevent potential fraudulent activities. They are easy to use and offer the safest payment methods, for safe online transactions.
5. Predictive Marketing
AI-powered social media platforms help understand people's choices better, as they use predictive analysis and suggestions. These strategies help optimize your e-commerce site and increase sales as clients will appreciate seeing their preferred products at the top.
6. Chatbots
The use of chatbots in e-commerce is growing rapidly and this trend is here to stay. By 2024, it's estimated that merchants will spend $142 billion on virtual assistants globally.
Advancements in AI and natural language processing, as well as an increased preference by consumers for immediate, practical and intimate communication, have been pushing this trend. Whether a company targets B2B, D2C or B2C customers, chatbots can play a variety of functions during the purchase process.
They can serve as customer service agents for brief inquiries, help people shop by giving them advice and information, enable merchants to achieve high scalability, collect data and improve the user experience by offering support at all times.
Top AI E-commerce Tools
The main goal of an AI in e-commerce API is to improve profits using machine learning algorithms and data analytics. These developments enhance the operation of online stores and offer data-driven business insights.
AI tools for e-commerce help save time and money in marketing, customer support, content creation, etc. Below are some top AI tools for e-commerce development.
1. Writerly.ai
It's an AI software that helps generate detailed text from original thoughts, which is properly edited and free of grammatical mistakes. It provides a free plan that is restricted to 2000 words per month.
2. Frase
It helps you to produce articles with a high degree of accuracy as well as content for social media. It has plans ranging from $14.99 per month to $114.99 per month.
3. Neural Love
It's an AI image enhancer and generator that focuses on resizing and renovating pictures as well as creating AI avatars from pictures that are uploaded. It has a free plan that does not provide video enhancement and also a pay-as-you-go plan, which does not require any subscription.
4. Deep Dream
It's an AI art image generator that allows you to create stunning pictures and also create images based on text prompts. It has plans ranging from $19 per month to $99 per month.
5. Descript
It's a powerful AI tool that is suitable for every e-commerce store that helps boost sales and increase conversion rates. It's used to create captivating video content and also helps in video editing. It has a free plan, a creator plan for $12 per month and a pro plan for $24 per month.
6. Prisync
This AI tool monitors the real-time prices in the market and helps manage your product pricing, thus maximizing profits. It also offers simple solutions to any technical issues you might have with your e-commerce website. It has a variable pricing structure.
AI has developed a wide range of industries, from transportation to education, healthcare and security. AI development services have been a powerful instrument for boosting sales and improving operational procedures. The use of AI-capable technologies is widespread in any e-commerce enterprise, even in relatively small establishments.