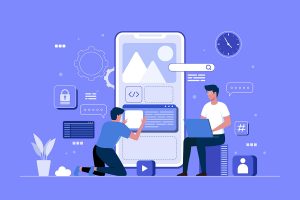 In the year 2021, e-commerce and mobile shopping witnessed exponential growth that was beyond anyone's imagination. Statistics show that in the first half of 2021 alone, mobile users only on the Android platform have spent around 2 billion hours shopping, which is an increase of over 50% from pre-pandemic levels. 
The average cost of checkout carts was $78, which was more than that witnessed before the onset of the pandemic. As a result of this unprecedented growth, mobile commerce sales alone are expected to cross $3.5 trillion in 2021. This is a 20% year-on-year increase. 
And to put things in perspective, the share of mobile commerce has increased to 72% as compared to just a little over 50% in 2016.
E-commerce businesses of all sizes aim to reach as vast an audience as possible that in turn can result in increased sales. Some of the most important factors that e-commerce businesses track include the number of visitors to their app followed by the number of such visitors who have purchased on their platform, or in other words – conversions.
While the number of visitors and conversion rates are important metrics, businesses, with an intent to identify and improve infinitesimal aspects have also started tracking the cost per conversion, i.e., the amount of money that they spend on a conversion.
Such detailed metrics are just an indication of the depth to which organizations track expenses. Another aspect of this meticulous approach is enterprises choosing the most cost-effective platforms to build their e-commerce applications.
With the plethora of integrations and seamless structures that Magento mobile app development offers, more and more businesses are fast realizing the immense benefits of this platform.
We look at some of the most important aspects of Magento mobile app development and how it helps reduce costs and increase effectiveness:
HTML5
With pre-integrated HTML5, businesses can swiftly build a store for mobile devices of all sizes to enable shopping on the go. HTML5 runs across platforms such as iOS, Android and Opera browsers and comes with features such as 
Audio and video capabilities for particular devices

Seamless presentation of search queries

Engaging product pages

Immersive product images with pinch and multi-touch capabilities 

Smooth scrolling between multiple images 

Cross-selling and up-selling functionalities

Drag-and-drop products into the shopping cart
Such in-built functionalities help reduce development costs drastically and also improve the customer experience, creating a win-win for all.
Detailed Analytics
When you build an e-commerce app using Magento, you also get the following analytics tools that give reports on:
Sales and tax

Abandoned shopping cart ratio

Most viewed products

Highest selling products

Low inventory

Popular search terms

Product reviews 

Reports on any specific tags created by the business

Coupon redemption

Total sales that have been billed

Total sales that have been refunded due to returned or damaged products
Magento also offers direct integration with Google Analytics that helps businesses track promotion campaigns easily. It also has an admin dashboard that provides a complete overview of all aspects, even when you have more than one store.
SEO Friendly App
Magento mobile application has afforded SEO serious importance and this is visible with its many in-built SEO-friendly functionalities such as search-engine-friendly URLs and auto-generated sitemaps. It also lists meta-information on all products in the store, in addition to providing such information for shopping categories and content pages.
Targeted Marketing Campaigns
Magento also offers store managers advanced attribute management that helps businesses build strong customer profiles based on history and preferences. Such detailed attribution capabilities help target specific customers who are more likely to buy thus improving sales and reducing the cost per sale metric for the business. 
Businesses can also offer personalized products based on the customer profile that increases loyalty and helps build the brand image. Such customers are also likely to recommend your business to others through word-of-mouth or through social media posts that can also impact the brand positively.
Personalization
Customers are more likely to be repeat buyers when they are provided with a personalized shopping experience. Depending on the customer's preferences, prior purchases, location, etc., businesses can target specific customers with tailor-made offers. Businesses can also target users by sending personalized emails with custom offers and gift vouchers.
In-built Marketing & Promotional Capabilities
Magento also offers online businesses powerful marketing and promotional tools that help improve reach and ensure eyeballs as well as conversions. Some of the important features include up-selling and cross-selling products within the same store, flexible coupons and pricing for different products and services, building customer groups to improve targeted marketing and multi-tier pricing that offers higher discounts to customers who buy a larger volume.
With Magento, businesses can also build landing pages for different product categories, prompt users about a new product launch across the app and also run newsletter and email marketing campaigns. Such an exhaustive functionality list is mind-boggling and provides business owners with multiple options to increase sales.
These vast functionalities are what make Magento popular among both Android as well iOS app development companies.