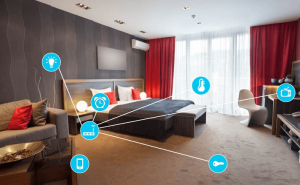 Consumer behavior and expectations from the hospitality industry have changed a lot during the last five years. From checking hotel reviews, booking a hotel room, fixing an appointment for a massage, to ordering food/drinks/towels in the room, customers prefer doing everything via smartphone apps.
Even after accepting hotel room automation and ERP systems, the hospitality industry has quickly adapted to the changes by embracing the latest IoT technology.
Internet of Things powered predictive maintenance solutions
Not just the hospitality industry, but multiple sectors are saving millions in annual operational costs with the help of IoT predictive maintenance solutions.
The system monitors the selected machines with the help of sensors that generate a flow of data. After comparing the real-time data with the past indicators/events/series of rules, the predictive maintenance software detects warning signs indicating the machine's need for maintenance, repair. Predictive maintenance helps in saving unnecessary labor and human resource cost.
The hotel's administration can keep track of operating status for devices, appliances, which are active in various rooms. The team can conduct maintenance tasks according to the alerts. It also helps hotels to carry out maintenance and repair work well in advance, before the device stops working.
Better inventory management
Besides tracking devices in various rooms, inventory tracking remains a crucial function for the hospitality industry players. Smart warehouse systems consisting of RFID, remote scanners can help in keeping track of the warehouse inventory on an item-by-item basis.
Inventory management and the overall hotel ERP systems have revolutionized due to IoT solutions. The use of IoT technology in hospitality industry helps hotel administrators to check the real-time status of even the packets of snacks and soft drinks inside every room's mini-fridge.
Automation can ensure great customer experience
The use of iot in hospitality industry also allows hotels to deploy their human-staff for important customer engagement tasks instead of letting them manage something that can be taken care of by automation. Using IoT powered tools and mobile apps can ensure excellent customer experience and avoid negative interferences by employees. Engaging a limited number of human-staff also helps in reducing operating costs for the hotel.
Even power consumption reduces automatically. IoT lighting technology detects every room's occupancy and adjusts the lighting accordingly to save energy costs without compromising on customer experience.
Several hotels from around the world have deployed IoT; AI-powered virtual voice assistants in every room for guests. They can offer tailor-made information about cafes, restaurants, tourist attractions, and public transportation details for the city as well.
The mobile apps and virtual voice assistants can help guests in booking cabs, managing spa appointments, adjusting room temperature, selecting on-demand content for the entertainment system, adjust beds, order room service, checking the status of laundry, and so on.
Simply put, the internet of things hospitality combined with the hotel's CRM and ERP system can uncomplicate things as equipment maintenance, supply chain optimization, and overall operation management becomes efficient.
Business management operations, including taxation and invoicing, become smooth. The management can focus more on keeping the customers happy and acquiring new ones.
If your hotel wishes to develop IoT solutions to improve optimization and efficiency in the existing ERP or hotel automation system, you should surely discuss your requirement with engineers at Smart Sight Innovations.