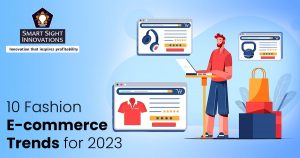 Numerous elements, including economic and technical breakthroughs, have an impact on the fashion industry. This makes it one of the most difficult businesses to succeed in. Consumers are enamored by unique experiences when they decide to buy a brand instead of it being just another transaction. The digital wave has led to an increase in digital commerce and merchants are adapting to give their customers an immersive brand experience and expand their operations. A significant portion of the direct-to-customer (DTC) brands are in the fashion and apparel industry.
Below are some trends that are going to influence the future of fashion retail. They emphasize on satisfying the growing desire for diversity and customization through technology, ethical and environmentally friendly business methods and engaging consumer experiences.
Fashion
E-commerce
Trends for 2023
1. Personalizing Customer Experience
Research indicates that personalizing customer experience can grow profit by more than 40%. It's the key to improving user engagement, revenue and operational intelligence for your business. However, to be truly effective it must be a constant theme during the entirety of the customer's shopping experience — right from the time they enter your store, while they make an online purchase, when they seek support or when they receive marketing and promotional materials from your company.
Online buyers are becoming more and more concerned with their privacy. Hence, too much personalization can be alarming and consumers are three times more likely to abandon brands that go overboard.
E-commerce brands have access to first-party data (collected directly on their website as against from other third-party sources), which makes it all the more vital to use it responsibly. Almost 60% of consumers worldwide don't mind trading their data for a better experience, but only 37% of respondents believe that brands are transparent about how they use customer data.
One of the first things e-commerce brands can do is to ask permission from their customers to use their data, make them aware how the information will be used and respect consumer privacy requirements. This prepares customers when they receive personalized content about holiday campaigns, personalized offers and tailor-made rewards programs.
Constant A/B testing in surveys and email outreach efforts to understand what sort of content resonates with customers and evokes responses is another facet to improve customer experiences.
2. More Financing Towards Social Commerce
An average social media user is connected to an online networking app for around 15% of their day. Many online fashion firms significantly rely on social media for their e-commerce marketing strategy. Many social media platforms are updating their business models to support in-app shopping, enabling them to connect with users who are seriously considering buying something.
Close to half of the customers would like to watch the product videos before purchasing. Fashion businesses have seen an increase in sales as a result of the customer's ability to view the products on a real person. TikTok and Instagram have contributed majorly towards this. Nordstrom introduced Livestream Shopping, which is a blend of in-person store experience and digital capabilities.
3. Increased Resale
Customers are choosing alternative, less expensive methods of purchasing clothing. This includes the resale market too as discretionary cash is limited and brands are accepting this trend to meet demand. Though resale is not new to the market, it was not popular either. It was restricted to charity shops or economic shops. But in recent years this market has grown tremendously because of growing worries about the environment and the ethical implications of fashion.
The resale market has grown by 24% and is expected to grow three times faster than the overall global apparel market. Recycled clothing or secondhand clothing is spreading across the world and has replaced new clothing purchases. This trend is majorly being driven by technology and e-commerce, wherein more than 70% of consumers find it easier to shop secondhand now than it was before. Dôen, a California-based elite fashion brand introduced a program named Hand Me Dôen, which deals with pre-loved garments.
4. Companies Increasingly Using Metaverse
A single, shared, complete, permanent, 3D virtual realm where people can experience life in ways they couldn't in the real world is referred to as the metaverse. The importance of metaverse in e-commerce is becoming increasingly apparent. Avatars, crypto wallets and digital goods are all part of the metaverse. It's more about imagination, wherein brands can assist the client in imagining and visualizing themselves as the person in every image.
For example, PrettyLittleThing, a fashion brand, started displaying things on virtual models as well. The company announced the information on its Instagram page and launched a competition to promote its unique "avatar in the metaverse" concept.
5. Prioritizing Sustainability
A crucial principle for modern fashion buyers is sustainability. Close to half of the global customers purchase eco-friendly and sustainable products. Customers are becoming more concerned about how you conduct your business as there is a growing concern over the global impact of the product. To ensure that they create eco-friendly items that consumers want to buy, many brands are reviewing their operations, material sourcing, product development processes and supply chain.
Patagonia, a clothing company, actively supports environmental causes, and its initiative Worn Wear displays its dedication to sustainability. Customers are encouraged to purchase and sell used things rather than new ones.
6. Amounts Invested in YouTube Shorts
Fashion businesses and creators are interested in YouTube Shorts. It is a short-form video-sharing website containing content similar to that of YouTube's main service but is focused on videos with a maximum duration of 60 seconds. Marketing strategies of companies like Nike, Skims and American Eagle already include YouTube Shorts. Additionally, luxury brands like Gucci, Christian Dior and Louis Vuitton are coming out with their Shorts too. Brands can increase interaction rates, increase revenues and add YouTube subscribers without spending money on long-form video.
More than half of the customers feel safe shopping in malls and physical stores and are ready for in-person shopping. Around 20% of online returns are due to the product seeming different in person than it does online. This ongoing challenge is forcing many fashion firms to return to traditional marketing. Modern consumers desire both online and offline sales channels. Consumers like to look at the product online and buy it in a physical store or the other way around. Some consumers would want to check online what products are available in-store.
Canadian fashion brand SMYTHE is investing in opening physical shops along with its online services, for its customers.
8. Extending Business by Adding Repair Services
Leading fashion brands are starting to give their customers the option to fix or repair their products rather than discard them. You may repair and update your garments, for less money rather than buying a new item as this reduces the burden on the environment. Brands are ready to reuse, recycle and repair their products.
Bottega Veneta, a luxury fashion house, announced that its clients will receive a lifetime warranty on their handbags. Another luxury brand, Louis Vuitton, also offered that it will fix any bag for a fee, depending on the problem and the sort of fix. Zalando, a leading German online fashion retailer offered repair and cleaning services to its customers. The brand went one step further by building an online marketplace on their own website where customers could buy and sell used apparel, which became an immediate success that led to the sale of over 200,000 pieces within a very short period.
9. Switching To Wholesale
Direct-to-consumer brands are fast running into the wholesale business. Most deals in fashion wholesale will result in a sale and no return. This means the stock that you sell is paid in full. You have control over the selling price of your product. Therefore, you have the option of raising the pricing to balance your expenditure. As a brand when you get wholesale orders along with orders online, you get the power to negotiate with the factory directly. This also allows you to collaborate with the fashion wholesale factory and increase sales jointly.
One such example was when Harry's joined Target Corporation, a big box department store chain.
10. Revolution in the Supply Chain
Disruptions in the supply chain, such as a lack of raw materials, backed-up ports and postal strikes are troublesome. Despite being unpleasant, these problems might also serve as a stimulus for progress. The manufacturing industries are looking into new, digitally enabled supply chain models to give fashion retail firms and their customers the flexibility they desire. Around 70% of businesses are considering nearshoring, which involves moving manufacturing operations to areas where the brands and companies they serve are located.
For instance, to have control over its production, US textile company Mount Vernon Mills bought a yarn spinning and weaving factory from Wade Manufacturing Company. By simplifying their operations, manufacturers can save costs, increase margins and reduce turnaround times.